Artificial Urine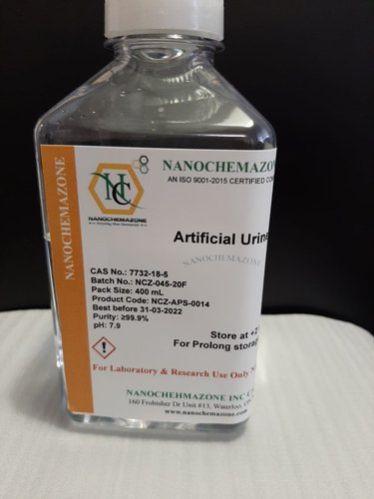 Price :
USD 10.00 - 50.00
/ Pack
MOQ : 500 Bottle
| | |
| --- | --- |
| Business Type | Manufacturer, Exporter, Supplier |
| Product Number | NCZ-APS-0014 |
| Packaging | 100 mL to 1000 mL (Also available in 25 Litre Containers) |
| Brand Name | Nanochemazone |
Medium for Growing Urological Pathogens
This ready-to-use solution closely resembles the composition of human urine and can be used for clinical studies as well as for product testing. This formulation supports growth of wide range of urinary pathogens and it is also capable of forming crystals similar to those found in natural urinary tract infections. It can be used as negative controls in laboratory testing. pH of the Artificial Urine Medium is 6.5. This product is stored frozen.
Artificial Urine Stabilized
This ready-to-use solution has the same composition as Artificial Urine Medium and closely resembles human urine. This formulation contains non-toxic preservative to avoid bacteria growth and can be stored at room temperature. The pH of Artificial Urine Stabilized is 6.5.
Contact us for Customization: sales@nanochemazone.com
We accept customization in the pH range and composition of Simulated Urine.
Artificial Urine for Corrosion Testing of Urological Implants, Stabilize
Artificial is designed for testing metallic biomaterials used to produce urological implants and catheters. This convenient product is a ready-to-use solution. Artificial Urine formulation contains a non-toxic preservatives to avoid bacteria growth and can be stored at room temperature. The pH of the final solution is 6.0.
Sodium Chloride
6.773 g/LSodium Phosphate Monobasic, Dihydrate
1.33 g/LPotassium Chloride
6.065 g/LCalcium Chloride Dihydrate
0.883 g/LSodium Citrate Dihydrate
0.584 g/L
Sodium Phosphate Dibasic
0.435 g/LSodium Sulfate
2.431 g/LMagnesium Sulfate, Heptahydrate
0.731 g/LAmmonium Chloride
2.322 g/LPro-Clean
0.3 mL/L
Artificial Urine
FOR TESTING STERILE URETHRAL CATHETERS Artificial specifies the method to test sterile urethral catheters. This ready-to-use solution should be stored frozen to avoid bacteria growth. The pH of the solution is 6.6.
The pH of the solution
6.6 /- 0.1Urea
25.0 g/LSodium Chloride
9.0 g/LDisodium Hydrogen Orthophosphate, anhydrous
2.5 g/L
Potassium Dihydrogen Orthophosphate
2.5 g/LAmmonium Chloride
3.0 g/LCreatinine
2.0 g/LSodium Sulphite, hydrated
3.0 g/L
Looking for "
Artificial Urine

" ?
Pack